Fuck where did the romantic dream go?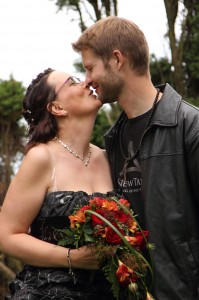 Most of my life I have been living in a romantic dream, not only in my relationship but in all areas in my life. As a child I loved SUGAR and romantic films, and all my life was one big romantic dream. I was dreaming myself away from life, was building dreams inside myself and some of them I tried to live out outside and some I just lived out in my fantasy world inside.
One fine summer day in 2008 I met this young man for a walk in the forest, I was very attracted to him from the first moment we met, but in a different way than I had been before. He did not fit my romantic dream very well and I got confused, because I felt this strong connection to him.
The evening before I had in despair went down on my knees praying to Spirit to help me. Told that I had no clue how to find a partner, that they could just see how it went when I did it on my own – not well. I needed help in this area, so I prayed that Spirit would find a partner to me or that I would stay single the rest of my life…. I totally surrendered in trust and felt a deep peace after praying…
So when I went out in the forest for my meeting I was so centred and just myself not trying to find a partner. I was so sure that I would never met anyone again, and was at peace with it for the first time in my life… I was so wrong, because that day I met my husband. He was this young man I had an agreement to meet and exchange clairvoyance with. And on our 3 years anniversary we got married in that forest below the big tree where we sat sown and saw into each other eyes the first time and felt something deep going on.
With him I have gotten a real life without romantic dreaming in our relationship, and it has taken us many years to accept it as something good. Both of us have both been fighting with this: in this relationship, he does not fit into my dreams, and I do not fit into his dreams. Today I am lucky we stayed together, and trusted that deep feeling of we belonging together. From the start the only thing fitting was that we both was seeking for at Tantric partner to share life with
In 2010 we finally found a Tantric school fitting our needs to grow as a couple, The New Tantrawith Alex Vartman. And what a crazy, living, fun, hard and growing journey it has been. I am blown away in Awe for how life has opened up for us/me entering this crazy wisdom school we found.
Life has gotten a whole new dimension, or many new dimensions… I never thought that I ever could be so happy and feel so free in life as I do now. It is a tough school and some of the processes we have gone through has really been like "pulling teeth out". We has learned about advanced sex, learned to pray to serve instead of pray to get, how the ego operate and have given up on the romantic dream and said yes to real life. We have both said goodbye to "fastfood" sex and yes to Gourmet sex, with long hours of sex and no greediness, and have also said no to the addiction to peak orgasms and yes to a much deeper sexlife…
And  the most profound choice we have made is we have both said yes to support each other in our journey through life. We have gone from how can I get something in this relationship tohow can I serve my partner to be the best and most serving person he or she can be, and that is a big change to do, and so much more life bringing and also challenging for both of us…
I am a happy woman with a great life, and everyday I thank spirit for guiding me to Pieter in that forest that day, and for ever day we have gotten together in this life. I am blessed.
With Love Kat <3